If you require Builders Waste Removal in Maidstone and Kent contact us today. Clear It Away are your number one company for building and project site clearance services. We are professional and reliable and provide excellent service. Our team will visit your site on a day convenient to you and offer a free quote for your site waste removal. You can call us on mobile 07518 610 038 or 01622 233 433.
Why is waste management important?
The most important reason for waste collection and removal is, of course, the protection of the environment and the health of the population. Rubbish and waste can cause air and water pollution. Rotting food is also known to produce harmful gases that mix with the air and can cause breathing problems. It is also vital that we recycle as much waste and rubbish, as it lessens the impact on landfill, which is ultimately being kinder to the environment.
We try and recycle as much rubbish and waste as we can. Everything is removed under our Environment Agency waste carrier licence, and we are fully insured for your peace of mind. We are also are registered with the Environmental Agency. We can prepare a site waste management plan for you before work begins. The plan will give you full details of how all materials and debris will be removed efficiently and disposed of legally. We will also provide a full breakdown explaining how the re-use and recycling of rubbish, waste and debris will be maximised to full potential. Therefore you don't have the worry and stress of clearing your site correctly.
Benefits of Builders Waste Collection
With our service, you don't have to worry about applying for permits, or finding space for a skip, nor do you have to worry about others filling your skip with their waste and rubbish. As most traditional skip hire services do not include labour, you would have load the skip yourself or hire additional labourers. Clear It Away instead provides a one-off solution; our reliable, professional driver will always tidy up after themselves, leaving you to get on with your busy day. The last thing you want when you are busy with renovations, conversions, and home improvements is trying to complete the job around all the rubbish and waste you have accrued.
If you have any garden rubbish you need removing or even piles of wood that you want to recycle and need the services you can contact us on mobile 07518 610 038 or 01622 233 433. Our rubbish clearance services are from any location in Kent and the surrounding areas.
Ashford, Kent
Broadstairs
Canterbury
Chatham, Kent
Cranbrook, Kent
Deal, Kent
Dover, Kent
Edenbridge, Kent
Faversham
Folkestone
Gillingham, Kent
Gravesend, Kent
Herne Bay, Kent
Lydd
Maidstone
Margate
Paddock Wood
Ramsgate
Rochester, Kent
Royal Tunbridge Wells
Sandwich, Kent
Sevenoaks
Sheerness
Sittingbourne
Snodland
Swanley
Tenterden
Tonbridge
West Malling
Westerham
Whitstable
What Waste Types can be Collected?
We will collect, remove and clear residential and commercial waste, builder's debris, scrap metal, cooking oils, textile, and wood. We work within strict guidelines and dispose of all rubbish and waste in the correct ethical way- we have a range of different vehicles to suit removal needs and requirements including, trailers, tipping trailers and a 12-yard transit.
If you are replacing the white goods in your kitchen or utility room, we can collect and dispose of them for you. If you are a commercial business and have office equipment that needs to be removed and disposed of our team will be on hand to do this for you. We collect all manner of furniture from your home or office, just let us know when and where and we will do all the hard work for you.
Our services include the collection of all your garden waste and rubbish. So if you are thinking of having a complete garden overhaul don't worry about hiring a skip and doing all the hard work yourself, we will come and do all the removing for you.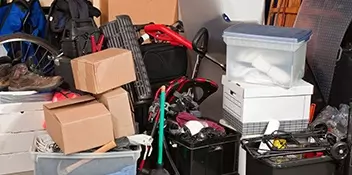 What is Building Site Clearance?
Building site clearance is the process of removing any debris, waste materials, and other unwanted items from a construction site. This is done in order to create a clean and safe area for building work to commence.
It typically involves the removal of any structures. This includes temporary buildings or fences, as well as the clearing of vegetation and other obstacles. Building site clearance is an important aspect of construction management. It ensures that the site is ready for construction work to begin. It also helps to prevent potential hazards or delays during the construction process.
WHAT IS THE PURPOSE OF SITE CLEARANCE?
The purpose of site clearance is to prepare a construction site for building work . This is done by removing any existing structures, vegetation, debris, and other materials that may interfere with the construction process.
Site clearance is typically one of the first steps in the construction process. It ensures that the site is safe and clear for workers to begin building.
Additionally, site clearance can also help to identify any potential hazards or issues that may need to be addressed before construction begins. Overall, site clearance is essential for creating a clean, safe, and efficient construction site.
HOW DOES SITE CLEARANCE WORK?
Site clearance is a multi-step process that involves the use of heavy machinery, skilled professionals, and waste clearance.

01.
Site investigation survey The first step is a site investigation survey that determines whether the land is safe to build on and establishes where it is safe to build. This step is crucial as it ensures the safety of everyone on the site and determines whether the project can go ahead

02.
Site clearance The second step is site clearance, which involves demolishing anything on the site and clearing away the leftover rubble. This process can produce a lot of waste, so hiring a professional soil removal and site clearance company can save time and money. The land will need to be cleared to a graded condition, which may include removing underground infrastructure, harmful soils, rubble, and materials.

03.
Planning After completing site clearance, planning can begin for the project. This is an important step before any work can commence as it establishes a basis to work from and assists in the planning and installation of septic tanks, pipes, and essential fixtures.

WHY IS SITE CLEARANCE SO IMPORTANT?
Site clearance is an essential part of any construction project as it prepares the site for the building work to begin. It ensures that the site is safe and ready for workers and equipment to move in. The process removes any obstacles or hazards that could cause delays or accidents during the construction process. Site clearance also ensures that the building work can proceed efficiently and effectively.
This can be done without any interference from pre-existing structures, vegetation or debris. Proper site clearance can also help to protect the environment by ensuring that hazardous materials are safely disposed of. Also any trees or vegetation are removed in a responsible and sustainable manner. Ultimately, site clearance is critical for the success of any construction project. It can help to ensure that the final result is a safe, functional, and aesthetically pleasing building.

WHAT DOES THE PROCESS OF SITE CLEARANCE INCLUDE?
Site clearance involves a systematic and controlled process. It is the process of removing debris, waste, and unwanted materials from a construction site. The exact process may vary depending on the specific requirements of the project and the type of waste being removed. However, some common steps in the site clearance process include:

Hazard assessment and safety measures:
Before the site clearance process can begin, it is important to assess the site for any potential hazards or risks. This includes checking for electrical hazards, unstable structures, and dangerous materials.
Safety measures such as protective clothing, helmets, and safety equipment are then put in place to ensure the safety of workers during the clearance process.

Removal of debris:
The first step in site clearance is the removal of debris, such as rocks, concrete, and other materials that are not needed on the site. This may be done by hand or using heavy machinery such as excavators, bulldozers, and front-end loaders.

Waste separation:
Once the debris has been removed, the waste is sorted and separated into different categories such as hazardous waste, recyclable materials, and general waste. This allows for proper disposal and recycling of the waste, where it is then disposed of.

Disposal & recycling:
Waste is then transported to the appropriate facilities. Hazardous waste is disposed of at special facilities that are equipped to handle these materials. Recyclable materials are sent to recycling facilities, while general waste is taken to landfills.
Site inspection:
After the clearance process is complete, the site is inspected to ensure that all waste has been removed. The site is now safe and ready for the next phase of construction.
Overall, site clearance is a crucial step in the construction process, as it ensures that the site is safe and ready for construction to begin.

If you require builders waste removal in Maidstone and Kent contact us on mobile 07518 610 038 or 01622 233 433. Our builders waste removal services are from any location in Kent and the surrounding areas.